Reasons Why You Need To Personalize Your WordPress Site Design
Personalizing and customizing your website is important for many reasons. First of all, if you are not hiring a professional web designer and creating a new website using WordPress, then you must consider selecting a uniquely designed WordPress theme. Once you have selected a uniquely designed WordPress theme, you can go on and make a few necessary changes.
You don't even have to purchase a premium theme. You can simply find a free WordPress theme and start customizing and personalizing it using YellowPencil visual style editor. Before you go on to make edits to your new website, you must understand the importance of personalizing your web design. Let's have a look at why you need to personalize your website design.
Reasons Why You Need Personalized Design
There are various reasons for customizing and personalizing your website. First of all, to make it unique and look fabulous, you should consider making necessary changes to all the elements of your website. If you want to personalize your WordPress site without coding, then YellowPencil Visual Style Editor plugin will come handy. There are lots of options available to personalize and customize your website using that specific plugin. A specific WordPress theme is used by various users out there, and when you are using that specific WordPress theme, you will have to focus on customizing it so you can create a unique design. Here are a few reasons why you need to personalize your website design.
Attraction For Visitors
First of all, it all depends on your basic requirements. If you are targeting a specific audience, then you will have to create a beautiful design for the visitors. Make sure that the design you are creating is attractive and will allow your users to stay and navigate through your website. Make sure that you are creating attraction in your website design, so the users find it attractive and don't leave the website immediately. Creating attraction for visitors is one of the most critical factors that you should focus on.
Engaging Targeted Users
If you are running a business that targets a specific audience, then you must personalize your web design according to the nature of your business. Your website design is valuable, and it is also one of the most important things that help users to navigate and stay on your website.
How YellowPencil Plugin Can Help You
YellowPencil will provide you all the key features that you are looking for. If you are focusing on personalizing your website design, then there is no better tool available except YellowPencil. You can use 800+ font families to create a stunning design. You can drag and drop elements when you are building your website. Moreover, you will be able to get live element resizing that will give you a clear idea of how you can adjust your design.
There are trend color palettes that you can use, and you will be able to find tons of great features to edit and customize your website. Once you have installed a plugin and started using it, you will be able to see two different editing panels on your screen. You can select any single element, and then you can start making changes to the CSS properties of that element to give it a unique and stunning look. You can change colors, positions, fonts and all the properties of a single element.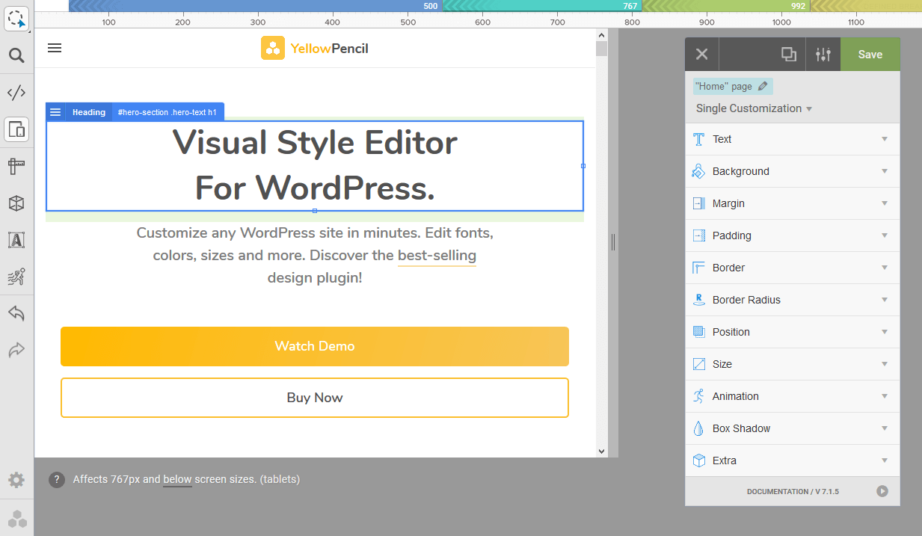 You can use responsive mode and then check the edits that you have made. It will allow you to create a responsive website without typing a single code snippet.